RIPOFF ALERT: Sam Brehm(865-660-7605)
Arthur Earl Wolfenbarger (865-237-7837)
These guys sold me mattresses and accessories in 2015, however, they did not deliver the services they promised. Sam was working at Beds For Less (8373 Kingston Pike, 865-560-0242) where I was mattress shopping. He met me outside to talk privately about giving me a better deal to work directly through him rather than go through the store. Ultimately, once these guys received payment in full, they failed to deliver on what they promised. They will not take a credit card, cash or check only. I received calls from check cashing establishments where checks were presented for cashing, apparently to avoid any possibility of the funds being traced. The links below show that others have had similar issues:

Delayed delivery issues for other customers.
Sam expects bankruptcy.
Another article
Pennsylvania article
The articles on this man abound!
Arthur arrest information

Do not trust these "gentlemen" to deliver anything they promise once you pay them in full. If you do business with them, make sure that all of their committments are delivered in full BEFORE paying them. Their empty promises to complete the transaction end up with unanswered texts, voice mail messages, and phone calls. Trust your instinct! If something doesn't seem right when dealing with these folks, it probably isn't.

Save yourself the hassle, frustration, and expense, and look for someone else - someone reputable - to provide products and services. They come across as sincere and want you to believe they are dependable, however you don't find out otherwise until it is too late.

Sam's Tennessee license plate number is: N85-29D and he drives a black Volkswagon, GTI with VIN:WVWFV71K28W256105. Sam uses the email address: littleg0dfather@yahoo.com.

Arthur is associated in some manner with Mattress Place in Knoxville (865-659-2337). The truck he used to deliver to me had the Mattress Place name and phone number on the side of the truck, however Arthur stated that this truck was "borrowed". This is a picture of the truck Arthur was driving when he delivered my mattresses: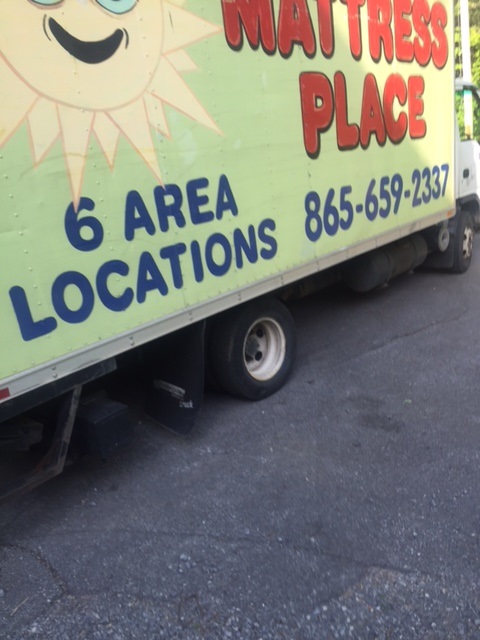 10/20/15 This article is not accurate ....I do believe ....the person making these aquisations failed to tell the public the reason she is bashing people was because they had refused to take off the old bedding because they were infested with bed bugs....I do not know how ones arrest record or their home address is so easy to just put out their....its called respect an obviously u have none.... If you are going to get on here at least tell the whole "truth" of the matter ....so next time you sleep in a cabin in pigeon forge check the beds......

10/26/15 These guys delivered mattresses to us, and claimed that they had bedbugs, so they could not carry the old mattresses away. We had two different insect experts look at the dead bugs that were pointed out, and both experts identified the insects as carpet beetles, not as bedbugs. We made repeated calls, and were promised on multiple occasions that they would return to pick up the old mattresses, however they did not. People involved in installing and removing mattresses should be better educated in identifying bedbugs. Regardless, offering a service and then not following through is dishonest. We were promised that our mattresses would be removed if the insects identified were not bedbugs. We followed through on our part, and were left with mattresses we had to find a way to get rid of. People should learn to identify bedbugs before scaring people unnecessarily.